Are you itching to get outside and explore the great outdoors? There's nothing like camping to help you disconnect from the stresses of daily life and reconnect with nature. But with so many campsite options out there, it can be overwhelming to choose the perfect one for your next adventure.
That's why we've created this guide to highlight the top campsite recommendations for an unforgettable outdoor experience. These campsites have been carefully selected based on their stunning locations, amenities, and activities offered. Whether you're a seasoned camper or a first-time adventurer, you're sure to find the perfect spot for your next trip.
Key Takeaways
Choosing the right campsite is crucial for an enjoyable outdoor adventure.
These campsites have been handpicked for their beautiful locations and available amenities.
From family-friendly campgrounds to backcountry hiking sites, there's a campsite for everyone.
Best Camping Spots in the United States
With an abundance of natural beauty and stunning landscapes, the United States offers some of the best camping destinations in the world. Whether you prefer a rugged backcountry experience or a more family-friendly campground, there is a camping spot for everyone. Here are just a few of the best camping spots to consider for your next outdoor adventure.
| Camping Spot | Location | Features |
| --- | --- | --- |
| Yosemite National Park | California | Glaciated valleys, waterfalls, granite cliffs, and Giant Sequoias. |
| Glacier National Park | Montana | Stunning views of glaciers, alpine meadows, crystal clear lakes, and diverse wildlife. |
| The Great Smoky Mountains | Tennessee, North Carolina | Mountain vistas, waterfalls, rivers, and more than 800 miles of hiking trails. |
Other notable camping spots in the United States include the Grand Canyon, Yellowstone National Park, and Acadia National Park. No matter where you choose to camp, you will be surrounded by the natural beauty and wonder of the great outdoors.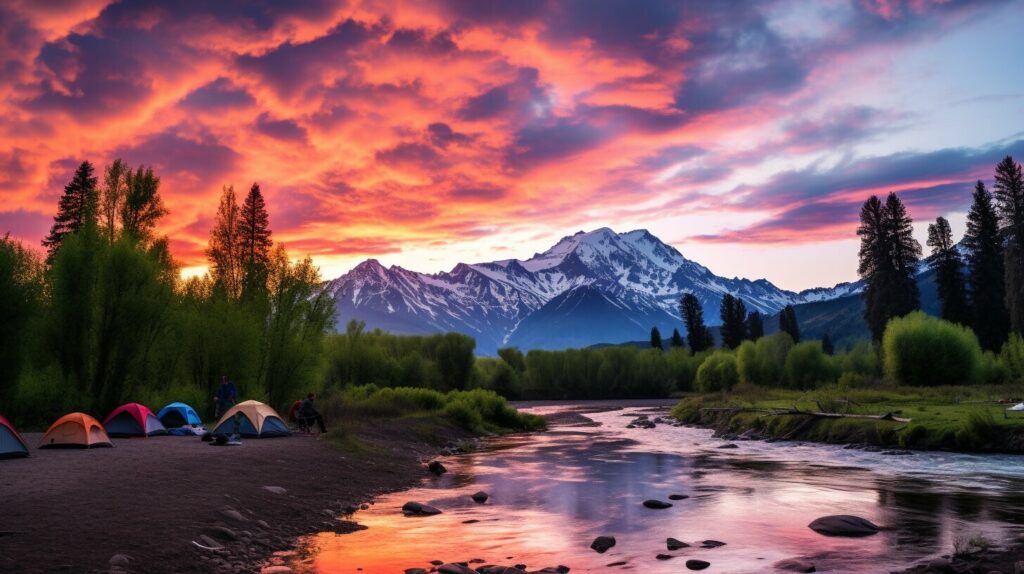 Experience the adventure and beauty of these top camping destinations in the United States. Whether you prefer mountains, forests, or waterfalls, there is a camping spot waiting for you to explore.
Essential Camping Gear and Checklist
Preparing for a camping trip can be an exciting but overwhelming process. To make sure you have everything you need, it's essential to create a camping checklist. This will ensure that you don't forget any essential camping gear and make your outdoor adventure pleasant and memorable.
To start, consider the location and weather conditions of your camping trip. This will determine the type of camping gear you'll need. Remember that comfort and safety should be your top priority.
Camping Checklist
Here's a basic list of essential camping gear:
Tent with stakes and guylines
Sleeping bag with appropriate temperature rating
Sleeping pad or air mattress
Camp chairs or stools
Camp table (if desired)
Cooler with ice
Camp stove with fuel
Cookware (pots, pans, utensils, plates, cups)
Headlamp or flashlight with extra batteries
First aid kit
Insect repellent and sunscreen
Multi-tool or knife
Map and compass
Water filter or purification tablets
Trash bags and ziplock bags
It's essential to pack light but still bring all the necessary gear. Remember that you'll have to carry everything to your campsite, so choose carefully and pack efficiently.
Camping Gear
When it comes to camping gear, there are several options available, ranging from entry-level to high-end. Consider your needs and budget before purchasing the gear. Here are some options:
| Gear Type | Entry-Level Option | Mid-Range Option | High-End Option |
| --- | --- | --- | --- |
| Tent | Coleman Sundome Tent | The North Face Talus 4 | Big Agnes Copper Spur HV UL4 |
| Sleeping Bag | REI Co-op Trail Pod 30 | The North Face Eco Trail Bed | Big Agnes Lost Dog |
| Camp Stove | Coleman Stove Ppn 2-Burner | Jetboil Flash | Camp Chef Explorer Double Burner Stove |
Based on your camping checklist, decide on the gear that works best for your needs and budget. Don't forget to test the gear before heading out to ensure everything is in working order.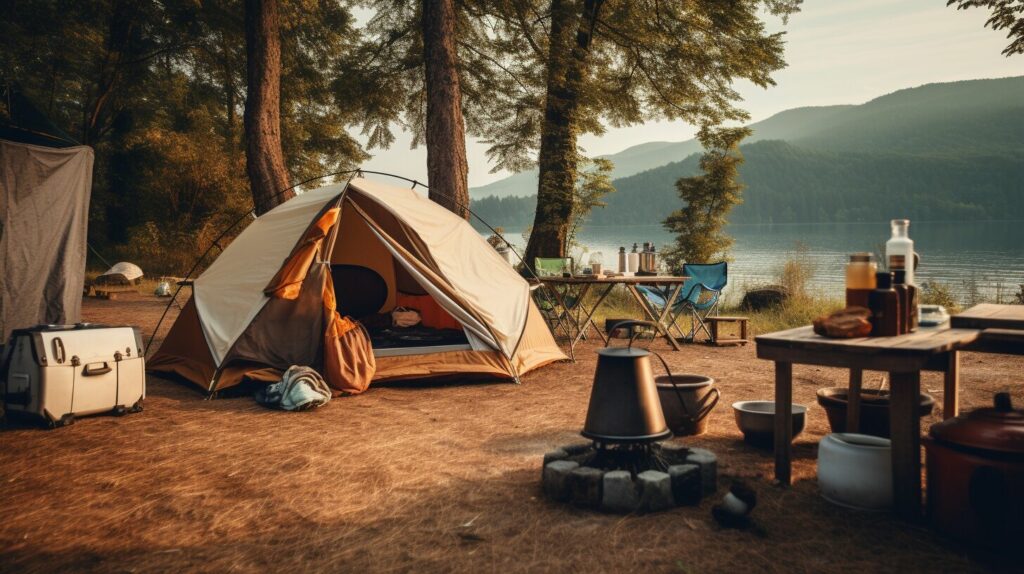 By creating a camping checklist and packing the essential camping gear, you can enjoy your outdoor adventure with confidence and comfort. Remember to consider your needs and budget when selecting camping gear, and always prioritize safety and comfort.
Camping Activities for a Memorable Outdoor Adventure
When planning your camping trip, you want to make sure you have plenty of activities to keep you and your group entertained. From hiking and fishing to wildlife watching and stargazing, there's no shortage of fun outdoor activities to enjoy during your camping adventure.
Hiking Trails
Many campsites offer hiking trails with varying levels of difficulty, providing a great opportunity to explore the natural beauty of your surroundings. Make sure to wear comfortable shoes and bring plenty of water and snacks. Consider downloading a hiking app or picking up a trail map at the campsite office to help you navigate.
| Trail Name | Location | Difficulty |
| --- | --- | --- |
| Angel's Landing Trail | Zion National Park, Utah | Strenuous |
| Half Dome Trail | Yosemite National Park, California | Strenuous |
| Delicate Arch Trail | Arches National Park, Utah | Moderate |
Fishing
Fishing is a popular activity at many campsites, providing a relaxing and often rewarding experience. Check to see if a fishing license is required and if there are any size or catch limits. Make sure to bring appropriate gear and bait and be mindful of any regulations regarding catch-and-release or fishing in designated areas.
Wildlife Watching
Observing wildlife in their natural habitat is a unique and fascinating experience. Grab your binoculars and keep a safe distance while observing animals in the wild. Remember to never approach or feed the animals, as it can be dangerous for both you and the wildlife.
Stargazing
The peacefulness of camping at night makes it the perfect opportunity to stargaze. Away from the light pollution of cities and towns, you'll be able to see the stars in all their glory. Bring a star chart or download an app to help you identify constellations and planets.
Campfire Cooking
Food always seems to taste better cooked over a campfire. From s'mores to foil-wrapped dinners, there are plenty of delicious meals to cook on the open flames. Remember to never leave a fire unattended and to properly extinguish it before going to bed or leaving the campsite.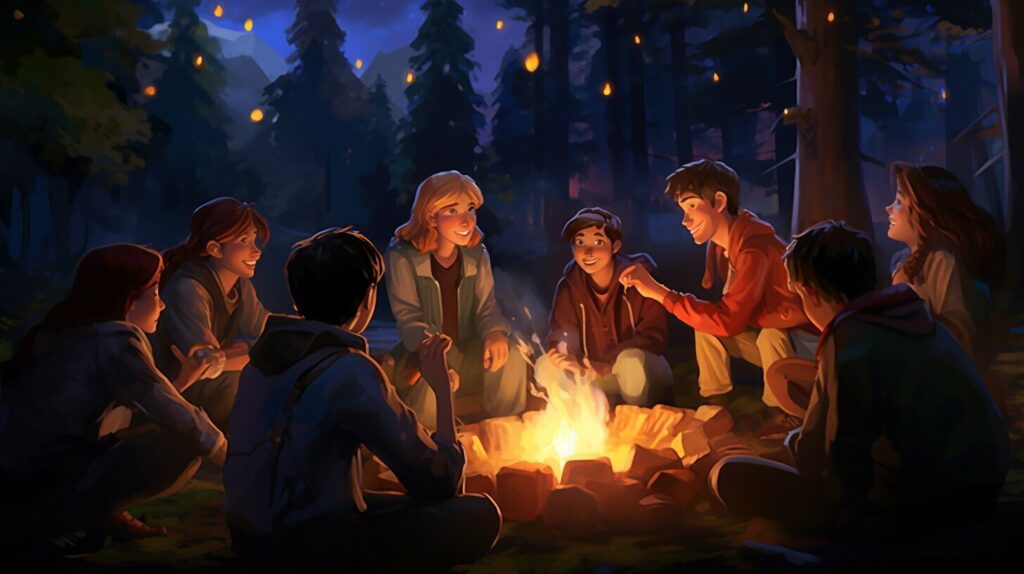 With these camping activities, you're sure to have an unforgettable outdoor adventure. Don't forget to check for any necessary permits or regulations before engaging in any activities and always respect the natural environment around you.
Choosing the Perfect Campsite
Choosing the perfect campsite is crucial to having a memorable outdoor adventure. Consider your preferences, such as proximity to water, level of privacy, and accessibility, when selecting a campsite. If you're traveling with family or friends, take their opinions into account as well.
Do you want to sleep near a river or a lake? Would you prefer a site with a view of the mountains or a forest? Think about the activities you plan to do during your camping trip and select a campsite that is conducive to those activities.
| Campsite Preference | What to Look For |
| --- | --- |
| Proximity to Water | Look for campsites near rivers, lakes, or streams. |
| Level of Privacy | Choose campsites that are secluded and away from other campsites. |
| Accessibility | If you have limited mobility, choose campsites that are easy to access. If you want to hike to your campsite, choose ones that are more remote. |
It's also important to consider the campground amenities and nearby attractions when selecting a campsite. Some campsites may offer access to showers, bathrooms, and picnic areas, while others may be more primitive with only a fire pit and picnic table.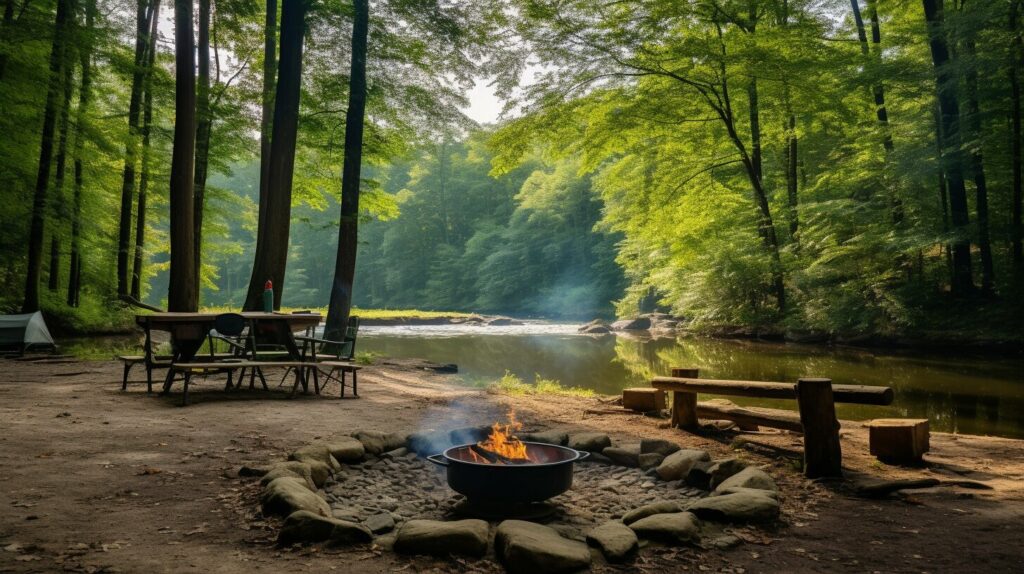 Ultimately, the perfect campsite is one that meets your individual needs and preferences. Do your research, plan ahead, and choose a campsite that will make your outdoor adventure unforgettable.
Tips for a Safe and Enjoyable Camping Experience
As you prepare for your outdoor adventure, keep in mind some essential camping tips to ensure a safe and enjoyable experience.
Firstly, make sure to set up camp properly, following all instructions for your tent and equipment. Check the weather forecast before your trip and prepare accordingly, bringing appropriate clothing and gear for potential rain, wind, or cold temperatures.
Fire safety is also crucial when camping. Keep all flammable materials away from your campfire, and only build fires in designated areas. Never leave a fire unattended, and always make sure it is completely extinguished before going to sleep or leaving your campsite.
Wildlife encounters can be exciting, but it's important to respect nature and observe from a safe distance. Store all food and scented items in designated bear-resistant containers, and never approach or feed wild animals.
Finally, always follow Leave No Trace principles, leaving your campsite cleaner than you found it. Pack out all trash and litter, and avoid disturbing natural habitats and wildlife.
By following these camping tips, you can ensure a safe and enjoyable outdoor adventure for yourself and future campers.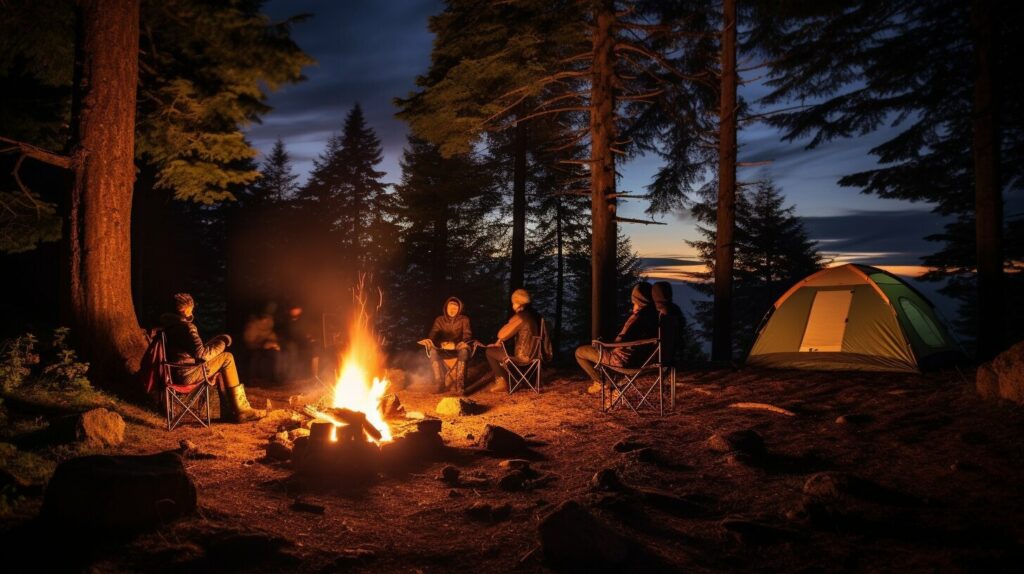 Campfire Cooking and Delicious Recipes
One of the best parts of camping is the opportunity to cook delicious meals over an open fire. Whether you prefer classic camping meals or gourmet dishes, there are plenty of options for satisfying your appetite. Here are some tips and recipes to make your next camping trip a culinary adventure.
Campfire Cooking Tips
Cooking over a campfire can be tricky, but with these tips, you'll be a pro in no time:
Choose the right fire pit: Look for a designated fire ring or pit, or use a portable fire pit to avoid leaving a mark on the ground.
Bring the right equipment: A sturdy grill grate, cast iron skillet, and long-handled tongs and spatulas are essential tools for campfire cooking.
Prepare your ingredients in advance: Chop vegetables, marinate meats, and pre-cook grains to save time and make cooking over the fire easier.
Use charcoal or wood: Charcoal provides a consistent heat source, while wood adds flavor and can be fun to gather with the family.
Cook over hot coals: Wait until the flames die down and the coals are evenly hot before placing food on the grill or skillet.
With these tips in mind, try out these delicious campfire recipes:
Campfire Breakfast: Sausage and Egg Foil Packets
Ingredients
4 sausages, sliced
4 eggs
1 red bell pepper, diced
1/2 onion, diced
1/2 cup shredded cheddar cheese
Salt and pepper, to taste
Directions
Lay out four sheets of heavy-duty aluminum foil.
Distribute sausage, bell pepper, and onion evenly among the four sheets.
Crack an egg on top of each pile of ingredients and season with salt and pepper.
Sprinkle shredded cheddar cheese on top.
Fold the foil into a packet, sealing the edges tightly.
Place on hot coals and cook for 15-20 minutes, until eggs are set and sausage is browned.
Carefully open the packets and serve.
Campfire Lunch: Grilled Cheese Sandwiches
Ingredients
8 slices bread
8 slices cheddar cheese
1/4 cup butter, melted
Directions
Butter one side of each slice of bread.
Place a slice of cheese between two slices of bread, with the buttered sides facing out. Repeat with remaining ingredients.
Place sandwiches on a hot grill and cook for 2-3 minutes on each side, until bread is golden brown and cheese is melted.
Remove from grill and let cool for a few minutes before serving.
Campfire Dinner: Foil Packet Chicken Fajitas
Ingredients
4 boneless, skinless chicken breasts, sliced
1 red bell pepper, sliced
1 green bell pepper, sliced
1 onion, sliced
1 tablespoon olive oil
1 tablespoon fajita seasoning
Salt and pepper, to taste
Directions
Lay out four sheets of heavy-duty aluminum foil.
Toss chicken, bell peppers, and onion with olive oil and fajita seasoning. Distribute among the four sheets of foil.
Season with salt and pepper to taste.
Fold the foil into a packet, sealing the edges tightly.
Place on hot coals and cook for 15-20 minutes, until chicken is cooked through and vegetables are tender.
Carefully open the packets and serve with tortillas, salsa, and guacamole.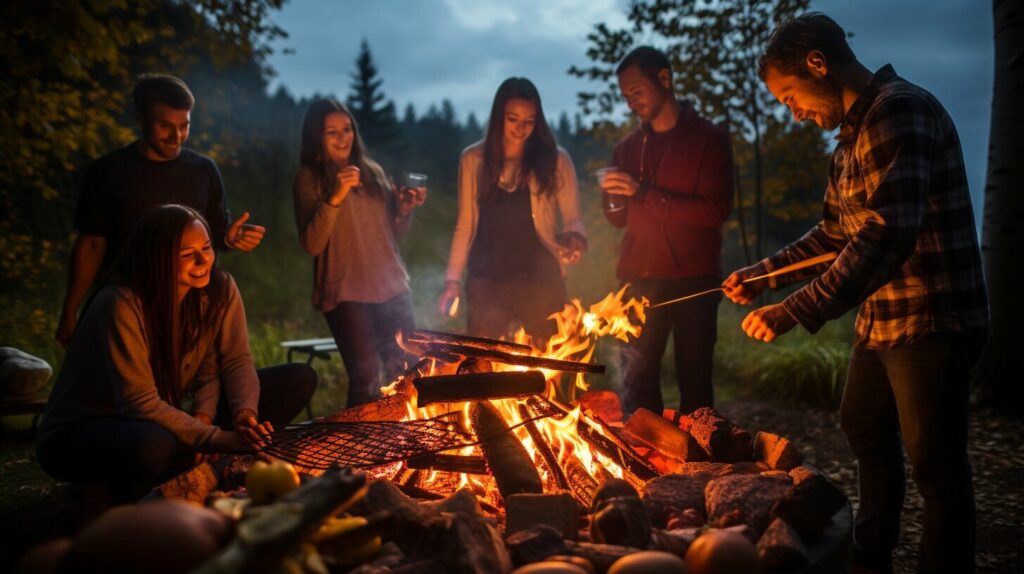 With these recipes and tips, you'll be able to enjoy delicious meals and create lasting memories around the campfire. Happy camping!
Must-Visit Campgrounds for Family Fun
If you're planning a family camping trip, you'll want to choose a campground that offers plenty of fun activities for kids of all ages. Here are some of the top campsites in the United States that offer family-friendly amenities and attractions:
| Campground | Location | Highlights |
| --- | --- | --- |
| Yellowstone National Park | Wyoming, Montana, Idaho | Kid-friendly ranger programs, geysers, hot springs, wildlife viewing |
| Disney's Fort Wilderness Resort | Orlando, Florida | Disney-themed activities, pools, water slides, horseback riding |
| Jellystone Park | Nationwide | Yogi Bear-themed activities, water parks, mini golf, laser tag |
| Lake George RV Park | Lake George, New York | Two pools, water playground, organized family activities, movie theater |
No matter what part of the country you're in, there's sure to be a family-friendly campground nearby. Look for campgrounds that offer playgrounds, swimming areas, nature programs, and other organized activities. Your kids will have a blast and you'll create unforgettable memories.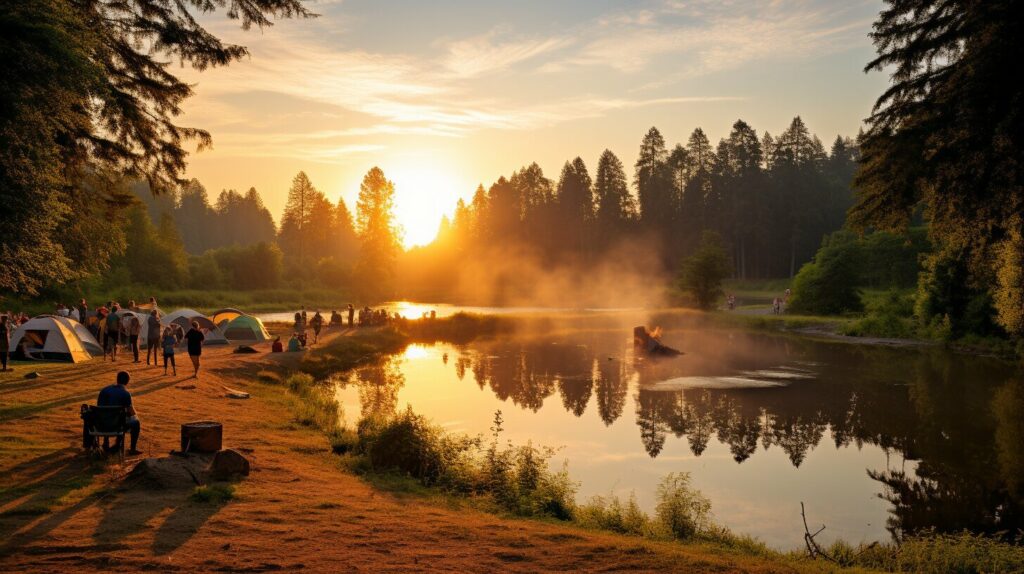 Conclusion
Camping is a fantastic way to experience the great outdoors, and with the right planning, gear, and activities, you can have a truly unforgettable adventure. From the stunning natural beauty of Yosemite and Glacier National Parks to the family-friendly amenities of campgrounds like KOA and Yogi Bear's Jellystone Park, there are endless camping destinations to choose from.
Remember to always prioritize safety and respect for nature, following Leave No Trace principles to ensure that these beautiful spaces stay preserved for generations to come. With our comprehensive camping checklist and expert recommendations for the top campsites and activities, you're all set to embark on your next camping trip. So pack up your gear, hit the road, and get ready for an adventure to remember!
FAQ
Q: What are the top campsite recommendations for an outdoor adventure?
A: The top campsite recommendations for an outdoor adventure have been carefully selected based on their stunning locations, amenities, and activities offered.
Q: What are the best camping spots in the United States?
A: Some of the best camping spots in the United States include Yosemite National Park, Glacier National Park, and the Great Smoky Mountains. These spots offer natural beauty, unique features, and available facilities.
Q: What is essential camping gear and checklist?
A: Essential camping gear includes tents, sleeping bags, cooking equipment, and first aid supplies. A comprehensive camping checklist will help you pack and prepare for your camping trip.
Q: What activities can I engage in during a camping trip?
A: Various activities such as hiking, fishing, wildlife watching, stargazing, and campfire cooking can enhance your camping experience. Make sure to follow any necessary permits or regulations.
Q: How can I choose the perfect campsite?
A: Consider factors such as proximity to water, level of privacy, accessibility, campground amenities, and nearby attractions when selecting the ideal campsite.
Q: What tips can you provide for a safe and enjoyable camping experience?
A: Set up camp properly, follow fire safety precautions, be aware of wildlife encounters, and respect nature. Remember to follow Leave No Trace principles.
Q: Can you share some campfire cooking recipes?
A: Yes, we can! Learn how to prepare meals over a campfire and discover delicious camping recipes for breakfast, lunch, dinner, and snacks.
Q: Which campgrounds are best for family fun?
A: Choose family-friendly campgrounds with playgrounds, swimming areas, nature programs, and organized activities for a memorable camping experience with children.